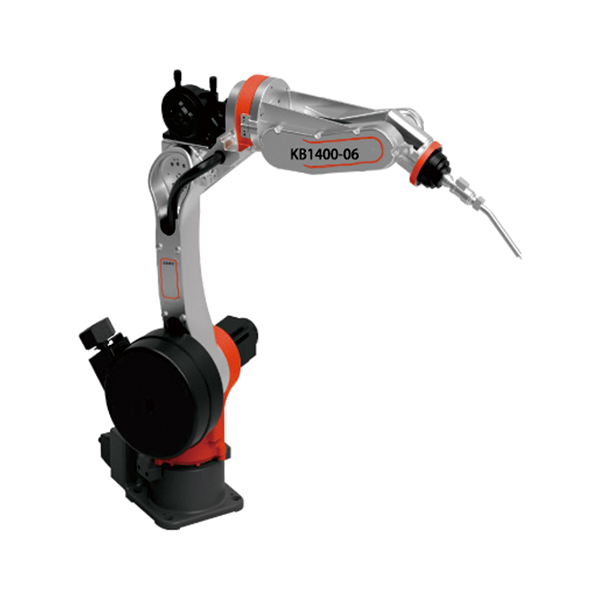 Arc welding robot:
Drive-Control Integration type: KB1400-06A
Standard type: KB1400-06
The main body of arc welding robot 1400-06,is an industrial robot with six axises motion, which applies an open industrial robot software platform and an open drive-control integrated system.
Application fields: welding, stacking, grinding, spraying, etc.
Features:
1. Fast and smooth motion control, segmented acceleration control.
2. Integrated the collision detection function and drag teaching function based on dynamics.
3. Independently developed calibration solution, ensuring the accuracy of each robot before leaving the factory.
4. It includes complete welding process package such as arc breaking restart, arc swing, starting point location, weld tracking, positioner, scheduled task, etc., which is applicable to the welding of medium and thick plate carbon steel and other materials.
KB1400-06/KB1400-06A

SPECIFICATION

Application

Arc-welding

Repeated positioning accuracy(mm)

<0.05mm

Movement speed(mm)

>1m/s

Accuracy of space straight line(mm)

<0.3mm

Space arc accuracy(mm)

<0.5mm

Max Working Radius(mm)

1400

Max Load(kg)

10

Number of Axises

6

Power Capacity(kva)

6 (Robot)+24 (Welding Power)

Installation Method

Floor,Hoisting and side-mount

Working Environment Temperature(℃)

0-45

Working Environment Humidity(Rh)

20-80%

Manipulator Weight(kg)

185
| | | | |
| --- | --- | --- | --- |
| Axis Performance | Motion Range | Max Velocity | Load Capacity |
| J1 | ±160° | 176.7°/s | 511Nm |
| J2 | -72°~+110° | 173.6°/s | 416Nm |
| J3 | -120°~+70° | 170.0°/s | 188Nm |
| J4 | ±150° | 295.9°/s | 105Nm |
| J5 | -110°~+105° | 197.3°/s | 44Nm, 0.30kg.㎡ |
| J6 | ±320° | 194.6°/s | 68Nm, 0.05kg.㎡ |